Sharp Smoker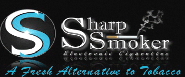 Sharp Smoker is a US company that resells e-liquid and e-cigarettes from overseas. That brings with it the best and not-so-great of both worlds. You don't get the more stringent quality controls that are present at US Manufacturers who sell directly to the consumer, you don't get the ingredient list or even get to know whether the e-juice is PG or VG. On the other hand, you get cheaper prices, you do get US customer service, and you get some pretty good e liquid for your money.
The throat hit from Sharp Smoker's eliquid is right in the middle of the scale, satisfying but a bit harsh; the vapor clouds are strong, although not quite up to the level of our top-rated options. There is a good selection of flavors in Sharp Smoker's eliquid inventory: five different varieties of tobacco flavors, from Camel to Virginia, plus one menthol, one mint and one clove. There are also 28 fruit and dessert flavors, from the usual chocolate, vanilla and cola to more unusual flavors such as mango, fruit punch, blueberry and caramel.
All of the flavors are available in 10 ml bottles for $6.00; nine are available in 30 ml bottles for $15.00, the cheapest price we've found from a US company. Sharp Smoker also has a discount program, where the more times you order, the bigger a discount you receive. The e-liquid comes in three available strengths: 24 mg, 11 mg and 8 mg; the USA Mix tobacco flavor is also available with no nicotine. If you order the large bottle of 30 ml, only two strengths are available, 24 mg and 11 mg.
We think there are better suppliers of eliquid available, but if you're looking for a US supplier and one of the Sharp Smoker flavors hits your fancy, you could do a lot worse.
PROS: Good prices and selection, US customer service.
CONS: Foreign-manufactured.